When purchasing an easel, consider its intended use, its space and storage requirements, and its cost. Wooden easels are more sturdy and stable than aluminum easels, but they are generally more expensive. The right artist easel will offer a stable base on which to work and make a difference in both work habits and posture. The right presentation easel will help you present your proposal by letting you stand directly in front of your audience. Display easels make any exhibit more appealing, and a correctly sized children's easel allows children to draw or paint on their level. Read the following tips and questions before beginning your easel shopping. The suppliers listed on this page offer a broad range of easels, as well as related items such as drafting tables and art supplies.

Artist easels may be designed as follows:
A-frame easels are traditional A-shaped easels.
H-frame easels are stable, H-shaped easels. They may be double sided.
French easels are folding box easels. They are good for outdoor field use with their storage space and carry straps. A French easel is an all-in-one sketchbox, easel, and canvas carrier.
Table easels are used for smaller size paintings. They work well for artists who sit while painting.
Studio easels are large, sturdy easels made of wood or aluminum. Heavier ones may have wheels.
When purchasing an artist easel, ask yourself the following questions:
What medium do you use?
Are you a mixed media artist?
Do you stand or sit to paint?
Do you paint en plein air?
Do you want a portable easel with storage space?
How much studio space do you have?
What size art do you produce?
When choosing display easels, base your easel style and construction on the item you intend to display. There are many display easel choices available, but here are a few basic questions to consider:
Should it be a floor-standing or table-top model?
What type of product or information is being displayed?
What size easel will complement or fit the display item?
When choosing a presentation easel, consider the following questions:
Will you use the easel in the office or on the road?
Does it need to fold up compactly?
Should the easel have wheels?
Do you use a flip chart in your presentations?
Do you need paper pad availability?
Do you need a whiteboard to write on?
Should it have a magnetic or non-magnetic surface?
Is a fabric-covered tack board necessary?
When choosing children's easels, consider these questions:
Will the easel be used by instructors or children?
Will the easel be used at school or at home?
Will the easel be used by multiple children simultaneously?
What type of work surface will you need?
Do you need a floor easel or a tabletop easel?
Easel and Art Supply Dealers
Dick Blick


Leading source for creative art materials, equipment, and supplies.
www.DickBlick.com

Cheap Joes Art Stuff


Offers a broad selection of artist's easels and fine art materials. Find watercolors, oils, and acrylics as well as art papers and brushes.
www.CheapJoes.com
---
Copyright © Zeducorp.
All rights reserved.
For your convenience, certain links will open in new windows.

Choosing Easels - Shopping For Easels
Related Images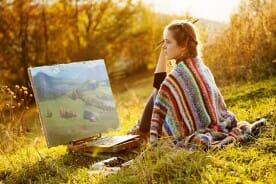 Artist Painting Outdoors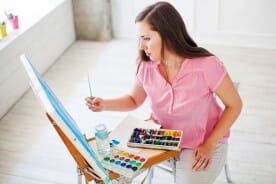 Watercolor Artist At Work In Her Studio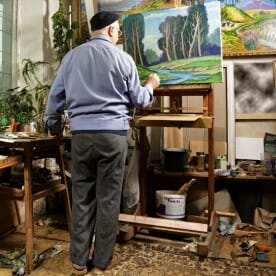 Artist Painting